Thursday Night's Over/Under Among Highest Ever Tracked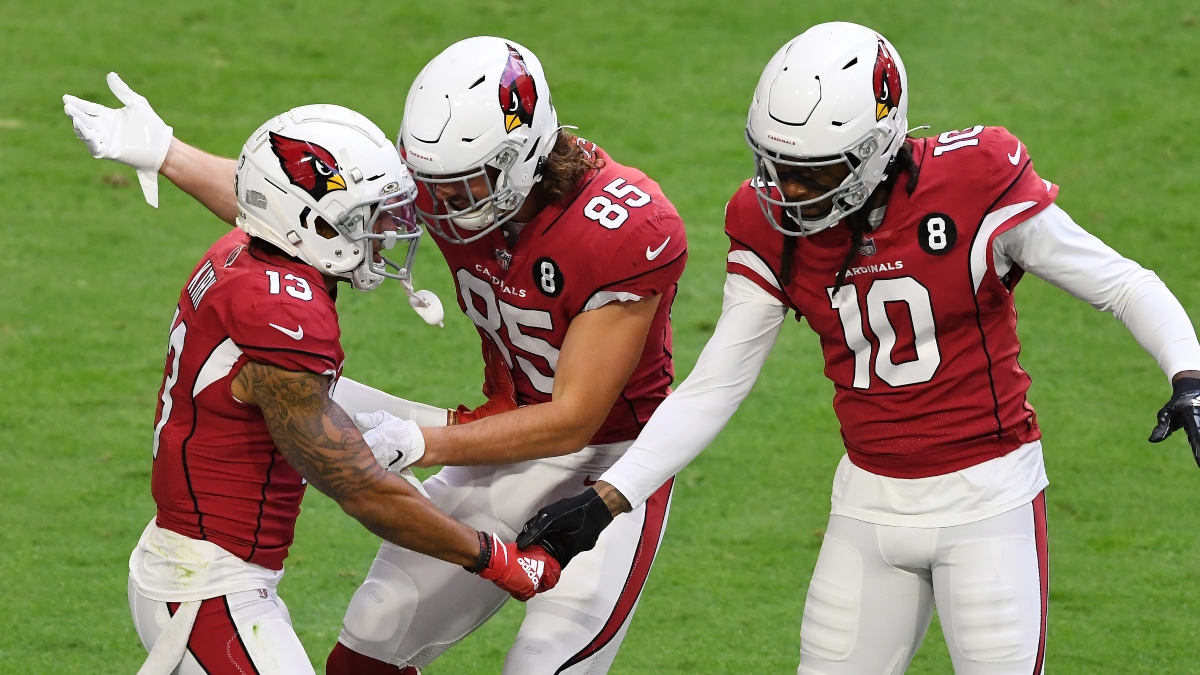 Credit:
Photo by Norm Hall/Getty Images. Pictured: Christian Kirk, left, Dan Arnold, center, and DeAndre Hopkins of the Arizona Cardinals.
Monday night's Minnesota Vikings-Chicago Bears NFC showdown was hard to watch as far as scoring goes.
However, oddsmakers expect the complete opposite and plenty of fireworks Thursday when the Arizona Cardinals take on the Seattle Seahawks, with the total nearing a record number.
NFL Odds: Cardinals vs. Seahawks
| | |
| --- | --- |
| Cardinals Odds | +3.5 |
| Seahawks Odds | -3.5 |
| Over/Under | 57.5 |
| PRO Projections | Seahawks -2.8 | O/U: 59.6 |
| Time/Channel  | 8:20 p.m. ET, FOX |
If you like offense, then do I have the Thursday Night Football matchup for you!
This week, fans will be treated to Kyler Murray versus Russell Wilson, who have positioned themselves among the MVP favorites going into the Week 11.
With plenty of points expected Thursday, sportsbooks opened the Cardinals-Seahawks over/under at 56.5 points, a number that has already increased to 57.5 (click here for live NFL odds).
So where does this total stand in NFL history, and how should bettors approach it?
Using our vast archive of historical betting data and PRO NFL Projections, let's answer both questions.
NFL Picks: Cardinals vs. Seahawks
At 57.5, the Cardinals-Seahawks game total ranks as the second-highest ever tracked by our Bet Labs software (which includes NFL betting data since the start of the 2003 season) for a Thursday Night Football matchup, trailing only the Atlanta Falcons vs. New Orleans Saints game on Nov. 22, 2018 that closed at 61.
Should this over/under remain at 57.5, it would be just the 13th time an NFL total closed above 57 in our database.
Interestingly enough, the Dallas Cowboys game against the Seattle Seahawks in Week 3 earlier this season also reached this rarified air, closing at 58.
And of the 12 games to hit 57.5 or higher, 11 of those still managed to over the total.
However, a 12-game sample is not large enough to confidently make a wager, so be sure to sign up for a FREE PRO Trial to access Cardinals vs. Seahawks picks, winning betting systems and updated projections.