Kenyan security agencies have begun implementing a dusk to dawn curfew in the counties of Lamu, Tana River and Garissa after a series of attacks by suspected Al-Shabaab militants in Lamu on Friday.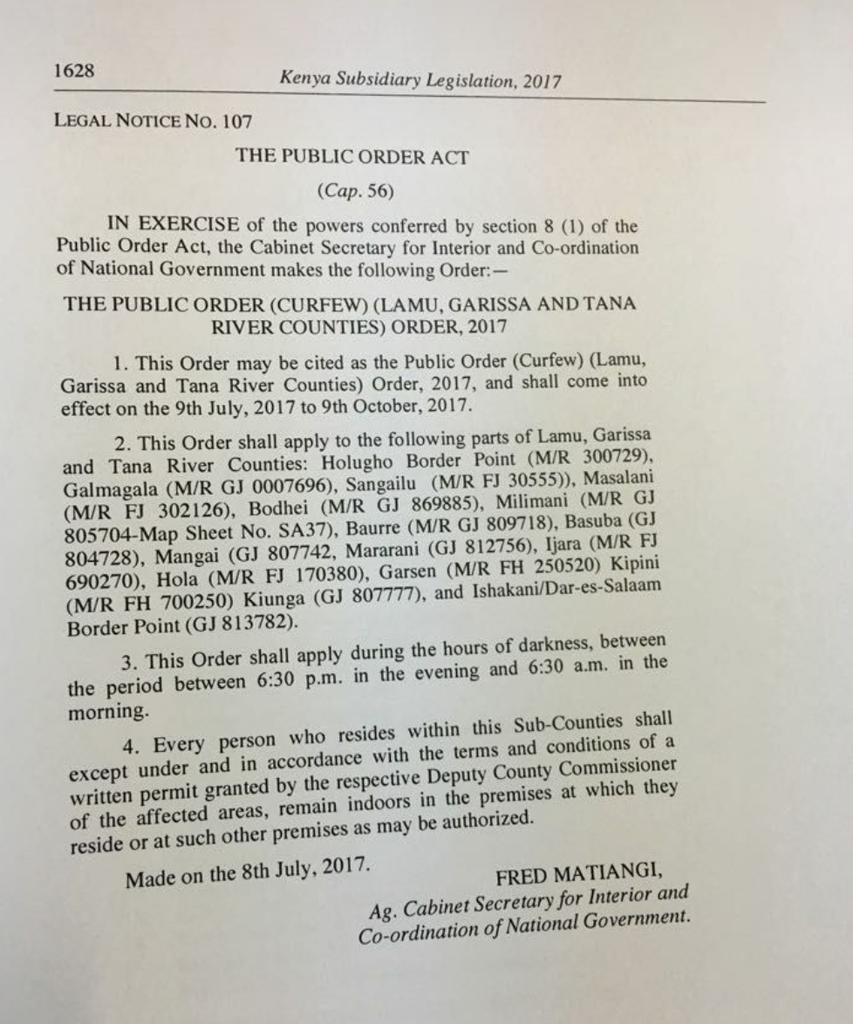 In Lamu, the curfew imposed by acting Interior Cabinet Secretary Fred Matiang'i is being implemented by the multi-agency in charge of Operation Linda Boni.
The operation by the Kenya Defence Forces, the National Police Service, the National Intelligence Service (NIS) and other State security agencies is aimed at flushing Al-Shabaab out of Boni Forest, in neighbouring Garissa county.
On Sunday night, movement was restricted in the targeted areas of Halugho border, Galmagala, Sangailu, Masalani, Bodhei, Milimani, Baure, Basuba. Villagers also kept indoors at Mangai, Maralani, Ijara, Hola, Garsen, Kipini, Kiunga and Ishakani.
On Monday, Operation Linda Boni director James Ole Serian urged residents to cooperate with security officers enforcing the curfew.
"We are focused in ensuring there is security in our area," he told the Daily Nation newpaper.
In a gazette notice dated July 8, Dr Matiang'i said the curfew would remain in force for three months.
It is not the first time a curfew is being imposed on Lamu. On June 20, 2014, the government imposed one-month curfew in the wake of Mpeketoni terror attack that left dozens dead.
The initial period was subsequently extended by five  months, prompting the Law Society of Kenya to file the case against the Inspector-General, the Attorney-General, the Interior Cabinet Secretary and the Defence Cabinet Secretary.
In April 2015, High Court Judge Said Chitembwe lifted the dusk-to-dawn curfew imposed on the mainland areas that include Mpeketoni, Hindi and Witu. The court agreed with the LSK that the extended restriction on movement was "well outside the period provided for under the law".
Implementation of the new curfew came as more troops were deployed to pursue Al-Shaabab in Boni Forest.
A source speaking to the Daily Nation said Kenya Defence Forces had bombed part of the Boni Forest on Sunday night in a bid to flush out the attackers believed to be hiding there.
According to the source, the operation to flush persons who attacked Pandaguo was going on well and more troops had been deployed who were aggressively pursuing the attackers. He clarified the government was not behind the evacuation of the residents of Jima and within other operation areas.
From Saturday, the Kenya Red Cross Society personnel helped evacuate non-locals living in Jima Village to safety over fears of fresh Al-Shabaab attacks after the militants killed nine people on Friday night.
About 15 heavily armed Al-Shabaab terrorists are said to have rounded up the residents before beheading men only with knives.
They killed at least nine people during the attack, just two kilometres from the Pandaguo police post where they killed four police officers on Wednesday.
Reporting by Mohamed Ahmed, DAILY NATION