SpaceX Falcon 9 rocket with NASA and JAXA astronauts launches
The absence of SpaceX CEO Elon Musk was noted as the private company's Falcon 9 rocket with its Crew Dragon capsule of three NASA astronauts and a Japan Aerospace Exploration Agency (JAXA) astronaut, successfully launched for the International Space Station on Sunday (local time).
It is being called the first fully-fledged flight for NASA by a private company.
We are going to the Moon soon and Mars thereafter. 🚀

America 🇺🇸, and our President @realDonaldTrump, dreams big and shoot for the stars! 🌟 https://t.co/kd9CoH3XV5

— Ivanka Trump (@IvankaTrump) November 16, 2020
NASA astronauts Shannon Walker, Victor Glover and Michael Hopkins, and JAXA astronaut Soichi Noguchi left launch pad 39-A at Kennedy Space Centre in Florida.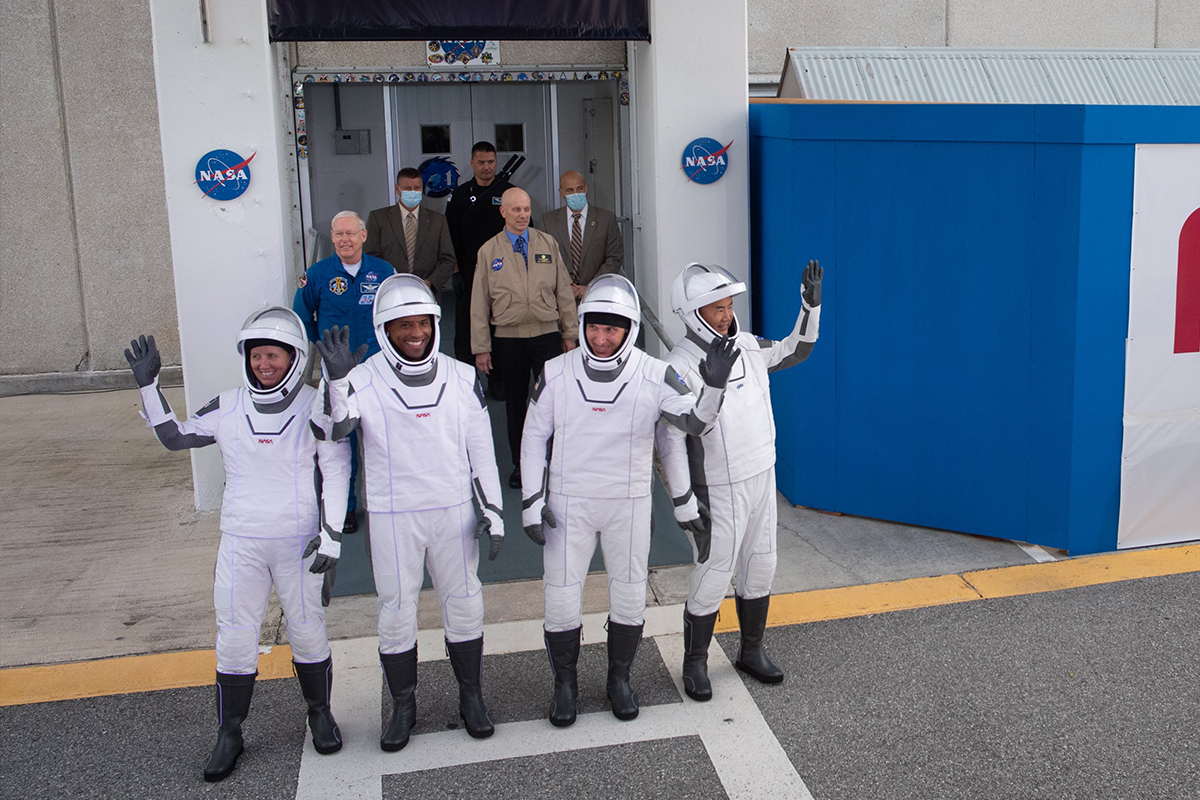 Resilience rises. 🚀

The Crew-1 mission has lifted off on a Falcon 9 rocket from @NASAKennedy at 7:27pm ET and is en route to the @Space_Station. #LaunchAmerica pic.twitter.com/5Q3uXSLvqt

— NASA (@NASA) November 16, 2020
Musk said on the eve of the launch that he "most likely" had COVID-19, despite mixed results. He was replaced in his official duties at Kennedy Space Centre by SpaceX President Gwynne Shotwell. She joined NASA Administrator Jim Bridenstine for last-minute remarks and photos with the astronauts prior to launch.
See the first photos from our remote cameras of the launch of the Crew-1 mission on @SpaceX's Falcon 9 rocket from @NASAKennedy. Check back for more! #LaunchAmerica 🚀📷➡️https://t.co/6OY3kX0Dni pic.twitter.com/6ySlgUDipq

— NASA HQ PHOTO (@nasahqphoto) November 16, 2020
Shortly after the launch of Falcon 9, the first-stage booster rocket separated from Crew Dragon. It touched down on a drone ship floating in the Atlantic Ocean about 10 minutes after liftoff.
The Crew Dragon spacecraft, which was named Resilience by the crew, will reach the International Space Station around 11pm ET on Monday.
The six-month mission is the first crew rotation flight on a US commercial spacecraft.
"This is a great day for the United States of America, and a great day for Japan, and we look forward to many more years of a great partnership… all the way to the Moon," said Bridenstine.
"It is not over. This was a beautiful launch… but remember, this is a six-month mission, and it's the first of many."

Administrator @JimBridenstine looking toward the future of the Crew-1 mission and the @Commercial_Crew program. #LaunchAmerica pic.twitter.com/7cKcu5mM1J

— NASA (@NASA) November 16, 2020
The launch begins what NASA envisages will be a long series of crew rotations between the US and the space station, after years of delays. More people means more science research at the orbiting laboratory, according to officials.
The flight to the space station takes 27.5 hours and should be entirely automated. The crew can take control if needed.
The four astronauts will join NASA's Kate Rubins and Roscosmos cosmonauts Sergey Ryzhikov and Sergey Kud-Sverchkov on the International Space Station, bringing the total staff to seven.
SpaceX's human launch program was developed under the Commercial Crew program, which saw NASA select two private companies to build astronaut launch systems for carrying astronauts to the International Space Station from US soil. SpaceX was chosen alongside Boeing by NASA in 2014 to create their respective systems, and SpaceX's Dragon capsule and Falcon 9 rocket became the first to achieve actual human flight certification from NASA in May with the successful completion of its final, Demo-2 test mission, which flew to the space station with two NASA astronauts, Colonel Doug Hurley and Bob Behnken, on board.