Mink eradication starting in Denmark over COVID-19 variant
The 17 million mink population in Denmark is being eradicated after authorities found that a variant of the SARS-Cov-2 (COVID-19) virus had been transmitted from the animals to 12 people and potentially could impact a vaccine's effectiveness, according to the country's Prime Minister Mette Frederiksen.
A strict lockdown has been placed on Denmark's North Jutland region as authorities seek to contain the new variant and have told the 280,000 residents they must be tested for COVID-19 within 14 days.
Every single one of up to 17 million minks at fur farms around the country are being killed, effectively ruining a billion-kroner industry, in Denmark's effort to cut off the variant at its source, Foreign Minister Jeppe Kofod said at a press briefing on Friday.
Culling will take place "as swiftly as possible", Kofod said, adding he "cannot underline enough how seriously the Danish government takes this situation".
Denmark has informed the World Health Organization, the European Centre for Disease Prevention and Control and the European Commission as to the situation.
"We are fully committed to ensuring the current situation is dealt with fully and decisively," Kofod added.
Denmark's government said SARS-Cov-2 has been found at 216 mink farms in Denmark as of last Thursday.
"We have seen transmission (of coronavirus from minks) to people working in mink farms and also transmission to the community," said Tyra Grove Krause, Head of Department for Infectious Disease Epidemiology and Prevention with the State Serum Institute.
Five different mink-specific variants of mutated coronavirus have been discovered, of which one – termed 'cluster 5' – shows a change in spike proteins on the virus.
The culling was decided after laboratory results were returned from experiments with the cluster 5 virus and antibodies from recovered Danish COVID-19 patients.
"What we could see was that this variant showed less sensitivity to these neutralising antibodies from recovered patients," Krause said.
"This is a concern because this may mean that in the future that some of the COVID-19 spike-directed vaccines may be less effective against this variant of the virus.
"This is not certain. We still need to do ongoing tests and research, but it's a concern."
However, the results combined with a joint assessment with health authorities, led to the decision that there was "a considerable public health risk associated with having mink breeding ongoing during a pandemic", she said.
The most recent case of the cluster 5 variant detected in a human occurred in September, the World Health Organization reported.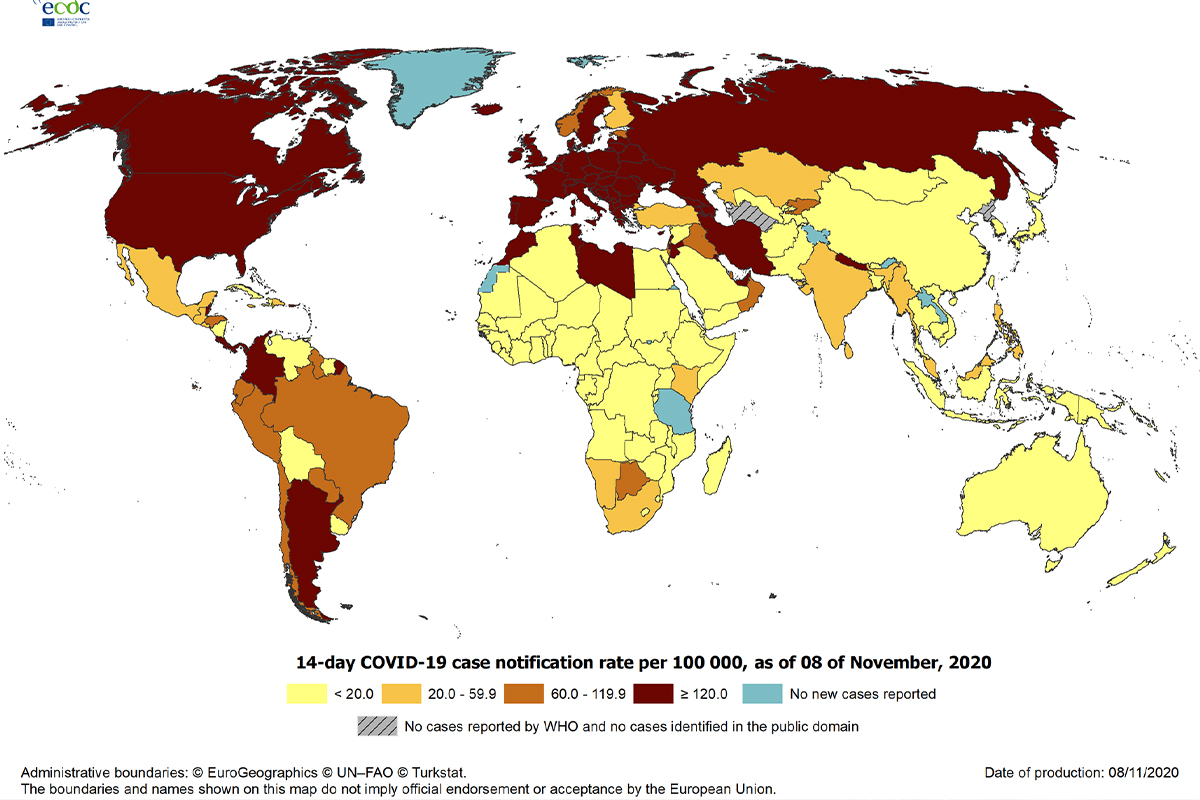 In the UK, Deputy Chief Medical Officer Jonathan Van-Tam told every hospital in the country to isolate suspected "mink virus" patients amid increasing efforts to prevent a mutant strain of COVID from spreading to Britain.
The UK tightened its restrictions on travel to and from Denmark due to the mink virus threat.
The UK will, from Sunday:
ban all planes or ships travelling from Denmark from landing or docking in the UK;
ban non-resident lorry drivers from entering the UK if they have been in Denmark within 14 days;
require UK resident lorry drivers who have been in Denmark to quarantine for 14 days.
The number of COVID-19 cases fell on Sunday, which in all likelihood is due to it being a weekend, but lockdowns featuring varying restrictions are in place in most of Europe and the UK. The US on Sunday was the only country to record more than 100,000 new cases of COVID-19.