Will Donald Trump pay the ultimate price for COVID-19 statements?
Until the coronavirus was first reported in Wuhan, China, Donald Trump would surely have marched back into power on 3 November. He claims he's managed "the greatest" economy ever: the country's economic expansion was the longest in US history, more Americans were in work than ever before and they were receiving higher rates of pay.
The summary of the White House's Economic Report of the President in March 2019 stated:
"For the second consecutive year, the US economy outperformed expectations and broke from recent trends by a substantial margin. In June 2017, the Congressional Budget Office projected that during the four quarters of 2018, real gross domestic product (GDP) would grow by 2%, the unemployment rate would decline by 0.1 percentage point, to 4.2%, and employment growth would average 107,000 jobs per month. Instead, real GDP in the first three quarters of 2018 grew at a compound annual rate of 3.2% – above the Trump Administration's own Q4-over-Q4 forecast for the second successive year —the unemployment rate declined by 0.4 percentage point, to a near-50-year low of 3.7%, and employment growth averaged 223,000 jobs per month. Growth in labor productivity, which averaged just 1.0% between 2009:Q3 and 2016:Q4, doubled to 2.0% in 2018. Capital expenditures by non-financial businesses rose 13.9% at a compound annual rate through 2018:Q3.
"In addition, overall economic output by the third quarter of 2018 was US$250 billion, or 1.3%, larger than projected by the 2009:Q3–2016:Q4 trend, with the compound annual growth rate up 1.2 percentage points over trend. Higher output growth was driven by a marked rise in real private investment in fixed assets, which was 10.6% over the trend as of the third quarter. In the first three quarters of 2018, the contribution of real private nonresidential fixed investment to GDP growth rose from 0.6 percentage point, the average of the preceding expansion, to 1.0 percentage point, while investment as a share of GDP rose to its second-highest level for any calendar year since 2001. Real private nonresidential fixed investment by non-financial businesses rose 8.3% at a compound annual rate through 2018:Q3, climbing to a level 14.7% above that projected by the 2009:Q3–2016:Q4 trend. As of December 2018, average nominal weekly earnings of goods producing production and nonsupervisory workers had risen US$2,300 above trend on an annualised basis."
Then the coronavirus was reported in January and it has destroyed Trump's America, and his opponents, the Democratic Party and presidential nominee Joe Biden, know it is a sore point with voters who have lost their jobs, lost their businesses and perhaps lost family members.
The US has had more deaths attributed to COVID-19 than any other country and the most confirmed cases in the world. Its death rate per 100,000 people, rarely reported, is the 10th worst at 679. European countries Spain, Belgium and Andorra, and South American countries Brazil, Peru, Bolivia and Ecuador have higher rates of COVID-19 deaths in its countries. However, the number of COVID-19 cases continues to
Before the coronavirus pandemic decimated the global economy, the US economy was expected to grow about 2% this year.
The US economy shrank at a 32.9% annual rate between April and June as the country grappled with lockdowns and spending cutbacks during the pandemic. COVID-19-related job losses wiped out 113 straight months of job growth in the US. Unemployment hit a historic record of 14.7% in April but it has recovered to 7.9% in September. It was 4.8% when Trump took office in January 2017.
Now Trump has not helped his cause with his bluff and bombastic dismissal of the severity of the coronavirus.
"We pretty much shut it down coming in from China," Trump said on 2 February when the US had eight confirmed cases of COVID-19. It had 64,000 confirmed cases yesterday.
With 15 confirmed cases on 15 February, Trump tweeted, "The Coronavirus is very much under control in the USA. We are in contact with everyone and all relevant countries. CDC & World Health have been working hard and very smart. Stock Market starting to look very good to me!"
On 28 February, Trump told a campaign rally, "Now the Democrats are politicising the coronavirus … One of my people came up to me and said, 'Mr. President, they tried to beat you on Russia, Russia, Russia.' That didn't work out too well. They couldn't do it. They tried the impeachment hoax. That was on a perfect conversation. They tried anything, they tried it over and over … and this is their new hoax."
"Gallup just gave us the highest rating ever for the way we are handling the CoronaVirus situation. The April 2009-10 Swine Flu, where nearly 13,000 people died in the U.S., was poorly handled," Trump tweeted on 5 March, when the US had 172 confirmed cases of COVID-19 and 12 deaths. An official total of 225,222 people had died from COVID-19 as of yesterday.
Trump, at a meeting on 17 March, when the US had 5,970 confirmed cases and 132 deaths from COVID-19, said, "We're getting rid of this virus. That's what we're doing. That's the best thing we can do, by the way, for the markets, for everything — it's very simple, very simple solution. We want to get rid of it. We want to have very – as few deaths as possible. This is a horrible thing."
On 24 April, Trump said at a White House briefing, "I see the disinfectant, where it knocks it out in one minute. And is there a way we can do something like that by injection inside or almost a cleaning, because you see it gets in the lungs and it does a tremendous number on the lungs." The next day, he claimed he was being sarcastic.
Trump shocked the world when, on May 19, he said he has been taking a malaria drug, Hydroxychloroquine, and a zinc supplement daily to lessen symptoms should he get the new coronavirus. He had been promoting its use beforehand. On 15 June, the US Food and Drug Administration revoked emergency use authorisation for Hydroxychloroquine and Chloroquine because they were ineffective for treating the virus and the adverse side effects from taking the drugs could be severe.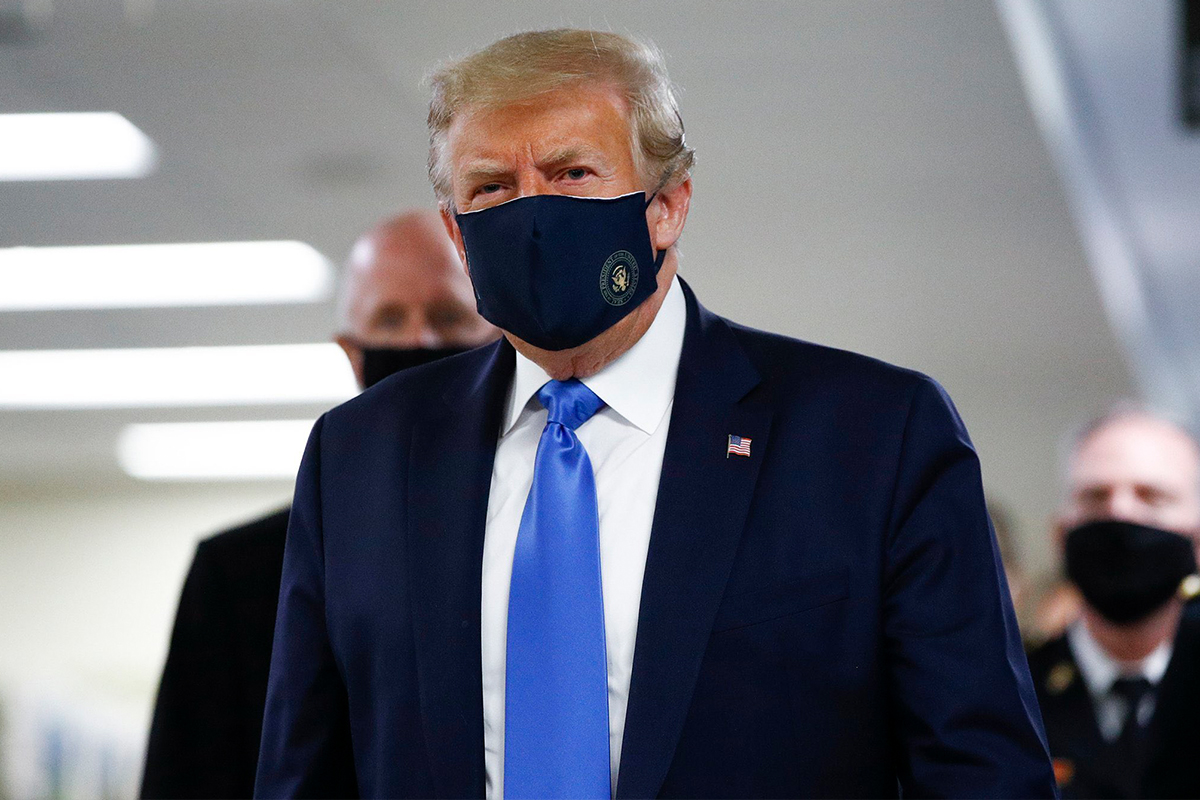 On Fox News on 17 June, Trump stated, "We're very close to a vaccine and we're very close to therapeutics, really good therapeutics. But even without that, I don't even like to talk about that, because it's fading away, it's going to fade away, but having a vaccine would be really nice and that's going to happen."
"China was way early, and they're getting under control just now. And Europe was way early, and they're getting under control. We followed them with this terrible China virus. And we are likewise getting under control," Trump told a White House press conference on 2 July announcing that almost five million jobs were filled in June.
In an Independence Day speech at the White House on 4 July, Trump said, "Now we have tested almost 40 million people … by so doing, we show cases 99% of which are totally harmless. Currently 96% of people with COVID-19 in the US recover."
On August 14, Donald Trump was asked at a press conference if he regretted "all his lying"
Trump claimed on 27 August that his administration had "launched the largest national mobilisation since World War II" against COVID-19, and America "developed, from scratch, the largest and most advanced testing system in the world".
On 11 September, Trump told a White House press briefing, "We're rounding the final turn."
During the first presidential debate on 29 September, Trump claimed, "We're weeks away from a vaccine."
On 2 October, Trump announced on Twitter that he and his wife Melania Trump tested positive for COVID-19. After receiving treatment, Trump left hospital on 6 October. He wore a mask while leaving the hospital and as he walked from Marine One to the White House but removed it when having his photograph taken.
A MESSAGE FROM THE PRESIDENT! pic.twitter.com/uhLIcknAjT

— Donald J. Trump (@realDonaldTrump) October 7, 2020
Trump said one of the drugs he received in hospital, Regeneron's REGN-COV2, was a "cure".
"We have hundreds of thousands of doses that are just about ready. I have emergency use authorisation all set and we've got to get it signed now. You're going to get better, and you're going to get better fast," Trump said.
"They call them therapeutic, but to me it wasn't therapeutic, it just made me better. I call that a cure.
"They're going to say that they're therapeutic and I guess they are therapeutic. Some people don't know how to define therapeutic. I view it different, it's a cure.
"For me, I walked in, I didn't feel good, a short 24 hours later I was feeling great, I wanted to get out of the hospital. I want everyone to be given the same treatment as your President."
No drugs have been given Emergency Use Authorisation.