Lewis Hamilton is the greatest and most bankable
Formula One racing driver Lewis Hamilton has become the greatest driver of all time after breaking Michael Schumacher's all-time win record of 91 races.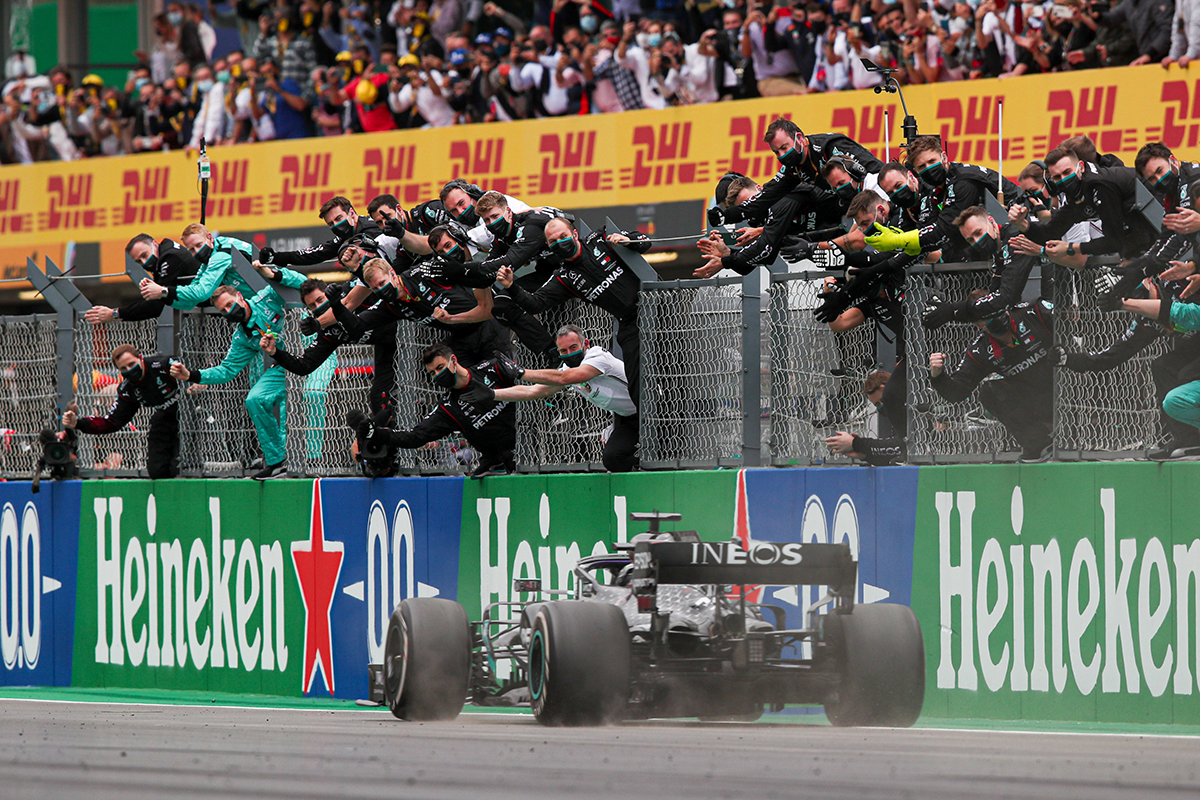 Hamilton easily won the Portuguese Grand Prix on Sunday to make it to an amazing 92 race wins. The win also gives him a 77-point lead in the drivers' championship as the 35-year-old, born in Stevenage, Hertfordshire, moves closer to a seventh world title, which would match Schumacher's other surviving record. Hamilton also holds the record for career points (3687), pole positions (97), podium finishes (161), grand slams in a season (3) and championship points in a season (413).
To the legends before me, thank you for paving the way 🙏🏾 https://t.co/u9hIcdKz2j

— Lewis Hamilton (@LewisHamilton) October 25, 2020
Hamilton's record-breaking victory saw him receive a standing ovation from the socially distanced crowd at the Algarve International Circuit in Portimão, before celebrating with his Mercedes team members and then a long embrace with his father Anthony.
Hugs from Dad 😍#PortugueseGP 🇵🇹 #F1 pic.twitter.com/AKsjGur8Tr

— Formula 1 (@F1) October 25, 2020
Hamilton said he "owed it all" to his Mercedes team, adding: "I could only ever have dreamed of being where I am today."
NINETY TWO WINS 🤯 Today is beyond my wildest dreams. I couldn't be here today without my team, continuously innovating and pushing the barrier in this game. I'm so grateful to have you guys by my side through this journey… pic.twitter.com/uNNFY6eLED

— Lewis Hamilton (@LewisHamilton) October 25, 2020
"I didn't have a magic ball when I chose to come to this team and partner with these great people, but here I am.
"Everything we do together – we are all rowing in the same direction and that's why we're doing what we're doing.
"And my dad's here and my step mum, Linda, and Roscoe (Hamilton's dog). It is going to take some time for it to fully sink in. I was still pushing flat out as I came across the line. I can't find the words at the moment."
#92 🙌🏾 https://t.co/4jcrZTTfUb

— Lewis Hamilton (@LewisHamilton) October 25, 2020
Hamilton, who signed a new two-year contract in 2019 that pays US$42 million a year, is the most marketable driver in Formula One. He added telecom Vodafone to his endorsement portfolio in 2020.
Hamilton lives in Monte Carlo, Monaco, and has a net worth of US$54 million, according to Forbes. He has sponsorship deals with Bose, L'Oréal, Mercedes-Benz, Monster Energy, Police Lifestyle, Puma, Sony, Tommy Hilfiger and Vodafone-USD.