15:02 – No Man Utd bid for Sancho
So, no concrete offer from Manchester United for the Borussia Dortmund winger.
The Bundesliga club have reportedly set an asking price of £109m for the England international.
This is the latest development after rumours circulated earlier today that United had a bid of £89m rejected.
14:48 – PSG's summer plans
Paris Saint-Germain normally love splashing the cash, so how will they approach this transfer window?
According to Le Parisien, the Ligue 1 champions are not aiming to sign 21-year-old Hertha Berlin winger Matheus Cunha this summer – as has been widely reported.
The club is reportedly looking for four players: A right-back, a central defender, a central midfielder and a striker.
But due to the financial impact of Covid-19 and a permanent Mauro Icardi deal already sewn up, PSG won't have so much money to spend this summer.
14:32 – Werner is training with Chelsea
Yes Chelsea fans Timo Werner has been inducted into Cobham life. He took part in his first training session today.
The Germany international, who joined from RB Leipzig for £47.5m back in June, was also attendance at the southwest London club's 2-0 win over Wolves at Stamford Bridge on Sunday.
14:22 – Is Coutinho really PL bound?
It is a story that is likely to dominate this transfer window. What does the future hold for Philippe Coutinho?
Watch our latest Euro Papers where we reveal which Premier League clubs are interested in signing the Barcelona midfielder – formerly of Liverpool fame of course.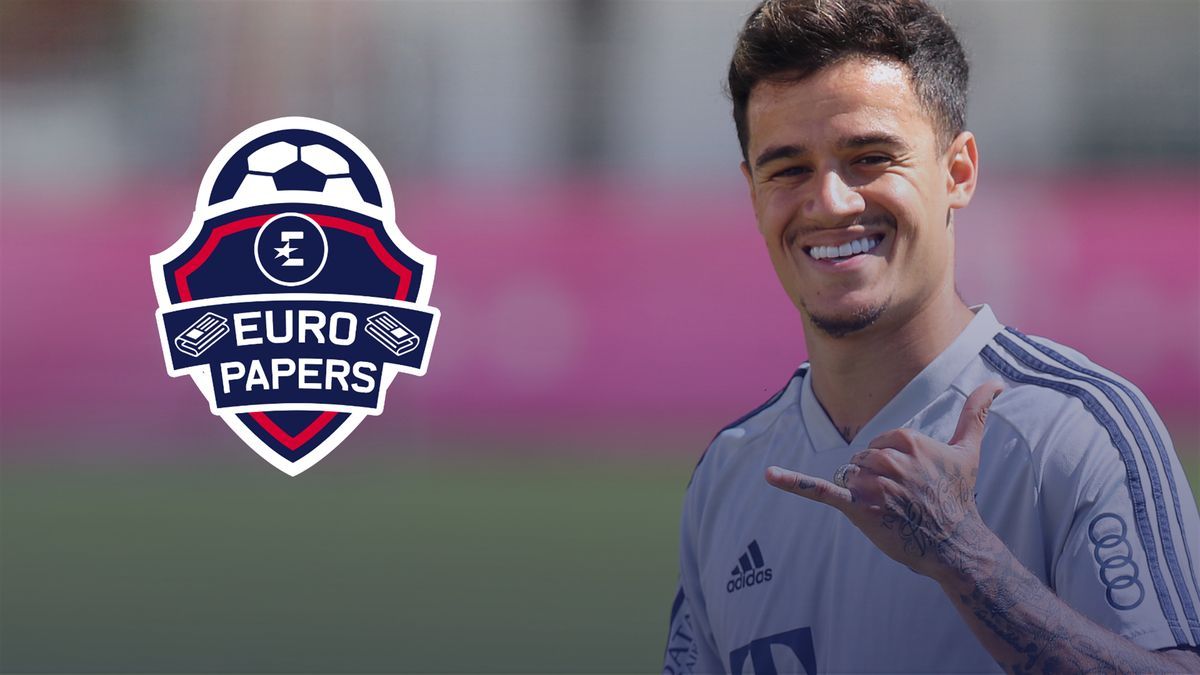 14:05 – Tanganga stays on
Tottenham defender Japhet Tanganga has signed a new contract until summer 2025.
The 21-year-old made 11 appearances for Spurs during the 2019/20 season. A five-year deal suggests we will be seeing a lot more of Japhet in the Premier League.
13:49 – Villarreal's new boss: Unai Emery
The former Arsenal manager has been appointed as manager of the La Liga side on a three-year deal. He was officially unveiled today.
13:05 – Lovren joins Zenit!
There it is. Dejan Lovren has left champions Liverpool to join Russian double winners Zenit St Petersburg. He has signed a three-year contract.
12:55 – Wu Lei to play in the Segunda
Any clubs who wanted to profit of Espanyol's relegation by signing Wu Lei are set to be disappointed. The Chinese forward has confirmed that he will be staying put and helping the club get back into La Liga.
12:45 – Leverkusen not interested in Onana
This might be potentially good news for Chelsea as Bayer Leverkusen director Simon Rolfes has said the club are not interested in Ajax keeper Andre Onana. They are more than happy with current number one Lukas Hadecy.
12:31 – 'We can't make Zaha like us'
Crystal Palace manager Roy Hodgson has said Wilfried Zaha's poor form during the home stretch of the season was due to uncertainty about his future.
12:24 – Stekelenburg is now heading for Ajax
Following Leighton Baines' retirement from football on Sunday, goalkeeper Maarten Stekelenburg has departed Everton to join up with his new Ajax teammates.
12:00 – Vorm, Vertonghen departures confirmed
Tottenham's Jan Vertonghen had confirmed he is leaving the club this morning. Spurs have also announced second-choice goalkeeper Michel Vorm is following him out the exit door.
11:55 – Hoffenheim have a new boss
Bundesliga club Hoffenheim have named Sebastian Hoeness, nephew of former Bayern Munich president Uli, as their new head coach after he led Bayern's reserves to the third division title.
"The work at Hoffenheim is a big challenge which I am looking forward to," Hoeness said. "The basic philosophy is identical with my idea of football: attacking, courageous, flexible and always active."
11:46 – Ajax complete Antony deal
Ajax have completed the signing of highly-rated Brazilian Antony – a reported Chelsea transfer target – from Sao Paulo and comes in as a long-term replacement for Hakim Ziyech.
Watch this sensational announcement video starring his new teammate and compatriot David Neres. It really is a great watch.
11:16 – Expert insight on Oblak to Man Utd
Jan Oblak to Manchester United? It could happen but only at the right price. Our colleague Enrique Sanchez from Eurosport Spain gives us the lowdown…
"Atletico Madrid doesn't want to sell Oblak. He is a key player for them. But if you put the money on the table doors open, like with Griezmann [to Barcelona].
"The clause is €120m right now, they incremented from 100 to 120 last year.
"The club wanted it to be €200m but the player didn't agree. So, maybe €120m is a number that a Premier club could afford, why not? And personally Oblak is happy at Atlético, he didn't say anything about leaving the club or similar.
"Atlético wouldn't accept anything less that the clause, maybe if the player asks specifically to leave (which would be really strange) they could make a discount, but nothing less than €100m probably.
"Atleti's finances have been affected by the Covid-19 crisis, but if they make it to the final on CL their economic situation could start to improve.
We don't expect big transfers, in or out, but they could really use the money if someone puts down the €120m.
10:59 – Big offers in for Renato Sanches
Remember when Renato Sanches was at Swansea? That pass to the sponsor board is one for the Premier League history books.
Anyway according to Gerard Lopez, Lille's president, the LOSC has already received several big offers for the Portugal international but they will not be selling the 22-year-old.
"The real question is competitiveness and stability of the team," Lopez told French newspaper L'Equipe.
For example, we had several offers with more than 70 million euros for Renato Sanches but he won't go. The project is more important.
10:40 – Bartomeu: No doubt over new Messi contract
Barcelona president Josep Maria Bartomeu says he has "no doubt" that captain Lionel Messi will sign a new contract with the La Liga club.
Messi, whose deal expires in 2021, had called his side "weak" and "inconsistent" after they lost the league title to Real Madrid.
"Messi has said many times that he wants to retire here and I have no doubt that he will re-sign," Bartomeu told Mundo Deportivo.
Paris Saint-Germain forward Neymar has been linked with a return to Camp Nou but Bartomeu said the only way for Barcelona to sign the Brazilian would be through a player exchange.
"Now we are making decisions and the players, if they do not come as part of a player exchange, it is very difficult for them to come," Bartomeu added.
10:28 – Coutinho set for Premier League return?
More front page transfer news coming out of Spain! This time Sport are leading with Philippe Coutinho.
The 28-year-old joined Bayern Munich from Barcelona on a season-long deal, but now the Catalan club are reportedly keen to offload him for good.
Coutinho is reportedly coming back to the Premier League with Arsenal, Leicester and Tottenham the three options on the table right now.
The same report says Arsenal have proposed a swap deal involving Matteo Guendouzi for the Brazilian.
10:17 – Liverpool 'interested in Kabak'
According to reports in Germany and England, Liverpool are interested in Schalke's highly-rated 20-year-old central defender Ozan Kabak, who is reportedly valued at £32m.
Liverpool are said to be looking to bring the Turkey international in from the cash-strapped club as a replacement for Dejan Lovren, who is set to move to Zenit St Petersburg after six years at Anfield.
10:08 – Kane, Winks wish Vertonghen, Vorm well
Tottenham captain Harry Kane has wished Vertonghen and goalkeeper Michel Vorm nothing but the best with "whatever is next" for them.
Midfielder Harry Winks posted a picture with the duo on Instagram.
10:02 – Lallana having Brighton medical
Liverpool midfielder Adam Lallana is undergoing a medical at Brighton and is set to agree a three-year deal, according to The Telegraph.
The 32-year-old is set to join the club on the south coast on a free transfer as his Liverpool contract has expired.
09:55 – Vertonghen has left Tottenham
Jan Vertonghen has announced on social media that he has left Tottenham Hotspur after eight years at the north London club.
The Belgium international made 315 appearances for the club.
09:45 – Liverpool identify Adama Traore alternative
In our latest edition of Paper Round – which you can read every day on the Eurosport website and app by the way – you will find that Leicester City's Harvey Barnes has emerged as a Liverpool transfer target.
Also, London clubs battle over Salzburg star, Kepa wants to leave Chelsea and Alfredo Morelos could be leaving Rangers. It's Monday's Paper Round.
09:33 – Barcelona keen on Eric Garcia
It's front page news in Spain. Barcelona want to sign Manchester City's 19-year-old central defender Eric Garcia this summer, according to Mundo Deportivo.
The Spanish centre back, who came through La Masia academy before joining City in 2017, has impressed in the Premier League – making 13 league appearances during the 19/20 season.
According to the report, the Spain U21 international is being considered as a long-term replacement to complement Samuel Umtiti and Gerard Pique.
Barcelona would apparently also consider bringing him in on a free next season.
09:15 – Manchester United targeting Oblak
Manchester United look to have found their David de Gea replacement and that man is Jan Oblak.
According to The Sun, the club are keeping tabs on the Atletico Madrid goalkeeper with Chelsea also interested in securing the Slovenia international's services.