The No.7 is an instantly iconic number in English football. We rank the top 19 taking into account overall quality and form this season
19. Max Meyer (Crystal Palace)
Minutes: 650
Goals: 0
Assists: 0
Tackles: 19
Take-ons completed: 6
The German is a magnificent talent and was one of the brightest prospects in the Bundesliga for years, but his move to South London has not worked out. He's barely seen the field this season.
18. Lukas Rupp (Norwich City)
Minutes: 609
Goals: 0
Assists: 0
Tackles: 14
Take-ons completed: 4
Signed mid-season by the Canaries, Rupp has completely failed to have an impact at Carrow Road. In fact, Norwich have lost all but three games (two wins and a draw) since he joined.
17. Johann Berg Gudmundsson (Burnley)
Minutes: 547
Goals: 1
Assists: 1
Tackles: 3
Take-ons completed: 5
Gudmundsson's season has been heavily disrupted by thigh problems, which unfortunately has pushed him down this list.
16. Andy Carroll (Newcastle United)
Minutes: 598
Goals: 0
Assists: 4
Tackles: 5
Take-ons completed: 6
Andrew Thomas Carroll has the most interesting facial hair in the division. In terms of his impact as an actual player though he's been useful in spurts but sadly injury has prevented him from being the towering presence he used to be.
15. Andriy Yarmolenko (West Ham)
Minutes: 943
Goals: 4
Assists: 1
Tackles: 13
Take-ons completed: 10
Yarmolenko is an absolute dynamo when he's fit and in form. Unfortunately, he's not really been either this season. Still, his goals have helped West Ham win key points, especially his sublime strike against Chelsea.
14. Demarai Gray (Leicester City)
Minutes: 590
Goals: 2
Assists: 3
Tackles: 12
Take-ons completed: 9
A perennial supersub, Gray never touches on pure genius but he consistently useful for a Leicester side that for the vast majority of the season was the second or third-best team in the division.
13. Shane Long (Southampton)
Minutes: 1394
Goals: 2
Assists: 2
Tackles: 19
Take-ons completed: 6
Ralph Hasenhuttl has managed Shane Long's workload superbly, keeping him fit through most of the season by using him as a late-game supersub. Not quite starter calibre, but still a most useful mammal.
12. Joshua King (Bournemouth)
Minutes: 1931
Goals: 5
Assists: 3
Tackles: 16
Take-ons completed: 49
Injury cut King's season in half and prevented him from really building any momentum after a promising start. His goals scored against Man Utd and Chelsea show an ability to impact big games but it's not something he seems capable of regularly.
11. James Milner (Liverpool)
Minutes: 836
Goals: 2
Assists: 2
Tackles: 13
Take-ons completed: 8
On the field, it has been James Milner's least productive season for a while as age does finally seem to be catching up with him, but some things cannot be measured in on-field stats and Milner's incredible leadership and professionalism played a big part in Liverpool's unassailable march towards Premier League domination.
10. John Lundstrum (Sheffield United)
Minutes: 2365
Goals: 4
Assists: 3
Tackles: 45
Take-ons completed: 18
Fantasy Premier League hero John Lundstrum hasn't been as impressive as many would have wanted in the second half of the season, especially since Sander Berge joined the Blades mid-season.
 9. Pedro Neto (Wolves)
Minutes: 883
Goals: 3
Assists: 3
Tackles: 8
Take-ons completed: 31
Wolves' cup regular Neto hasn't always played in the Premier League, and will forever curse VAR for denying him killer goals, but he's always given his all and added pace and thrust when he has played.
8. John McGinn (Aston Villa)
Minutes: 2226
Goals: 3
Assists: 2
Tackles: 52
Take-ons completed: 53
John McGinn is a throwback box-to-box midfielder who can do a bit of everything. His goals, tackling and dribbling are so fundamental to Villa in the middle of the pitch that when he was injured you could see the energy drain out the heart of Villa's midfield.
7. Neal Maupay (Brighton)
Minutes: 2679
Goals: 10
Assists: 2
Tackles: 20
Take-ons completed: 24
Brighton have long had trouble scoring goals, but bringing Neal Maupay in from Brentford has alleviated those concerns. Brighton haven't been at their best all season, but Maupay's goals have been the difference between survival and relegation.
6. Gerard Deulofeu (Watford)
Minutes: 2105
Goals: 4
Assists: 5
Tackles: 33
Take-ons completed: 61
Watford's wing-wizard is so incredibly dynamic, decisive and fun to watch that it's fair to assume that, had he not picked up a cruciate ligament injury, the Hornets would already be clear of relegation. Alas…
5. Bukayo Saka (Arsenal)
Minutes: 1753
Goals: 1
Assists: 5
Tackles: 36
Take-ons completed: 32
A teenage winger breaks into Arsenal's first-team, looks good, gets moved to left-back, looks just as good, and then gets moved back to wing and handed the No.7 shirt. If that isn't an incredible debut season, then nothing is. Saka is a ferociously talented young man who looks capable of anything.
4. N'Golo Kanté (Chelsea)
Minutes: 1733
Goals: 3
Assists: 0
Tackles: 44
Take-ons completed: 24
As much as this list favours productivity over the current season, there has to be something said for genuine legends of the game. N'Golo Kanté has been fair from his best this season but is still one of the most revered and respected midfield presences in the league. It is his tremendous misfortune that Frank Lampard cannot find a way to make use of his tremendous skill-set.
3. Richarlison (Everton)
Minutes: 2991
Goals: 13
Assists: 3
Tackles: 67
Take-ons completed: 61
Richarlison is a genuine wonder of a player. Big, strong, fast, skilful and displaying an ever-expanding repertoire of goals; there would seem to be no upper limit to his potential if he were given the right kind of stage to shine on. For now he has to settle for being Everton's best player, but rest assured that he can do so much more.
2. Heung-min Son (Spurs)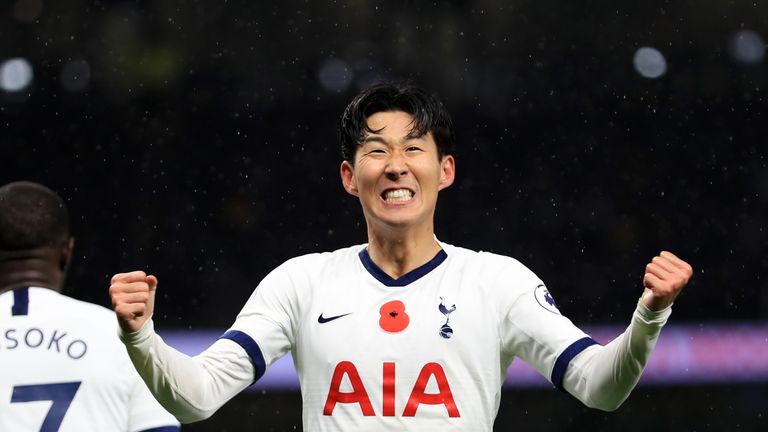 Minutes: 2406
Goals: 11
Assists: 10
Tackles: 21
Take-ons completed: 61
Heung-min Son is magnificent. A top-class footballer who is a genuine threat whether on or off the ball. His movement and runs are deadly but put him in possession and he can beat you with a dribble or thunder a supreme shot into the back of the net. Son has been Spurs' best forward this season and is one of only three Premier League players to bag a 'double-double' (double figures for goals and assists) in 2019/20.
1. Raheem Sterling (Man City)
Minutes: 2570
Goals: 19
Assists: 1
Tackles: 26
Take-ons completed: 55
While Manchester United don't even have a No.7, Manchester City have the best one in the league. Raheem Sterling is truly world-class, a miraculous forward who takes a complete and key role in City's attack. Pep Guardiola has placed a massive amount of trust in Sterling's ability to threaten opponents off the dribble or taking a shot, and Sterling nearly always repays that faith.
Nineteen goals in 32 league games is impressive, especially when you realise that, discounting penalties, only Danny Ings has scored more than Sterling this season. With one league game and the Champions League to come, Sterling is on the cusp of his first-ever 30-goal season. And if he were to get it, you wouldn't bet against him scoring even more in 2020/21. He's that good.