Expensive Houses: 11 Most Expensive Houses in the World 2020
Here ais the list of 11 most expensive houses in the world in 2020
01. Buckingham Palace ($5 Billion)
Value: $5 billion USD
Location: Westminster, London, United Kingdom
Owner: King George III(1761)
Architects: William Winde , John Nash, Aston Webb , Thomas Cubitt, Edward Blore
Space: 829,000 sq ft
Size: 39 acres
Completed: 1703
Attractions: 775 rooms, Changing of the Guard, State Rooms, Royal Mews, Queen's Gallery, Cavalry Museum
Buckingham palace is the most expensive & beautiful house in the world ever built. It is situated in the center of the state occasions and royal hospitality place the city of Westminster. Before 1730 the property was known as Bakingham House. After that it was in private ownership for at least 150 years. Then it was taken by King George III in 1761 as a private residence for Queen's Charlotte and became known as The Queen's House. Right now Buckingham Palace has served as the official London residence of the UK's sovereigns since 1837. It has 775 rooms. In total the palace has 19 state rooms, 52 guest rooms, 188 stuff rooms, 92 offices and 78 bathrooms. In measurements, the building is 108 meters long across the front, 120 meters deep and 24 meters high.
02. Antilia ($2 Billion)
Value: $2 billion USD
Location: South Mumbai, India
Owner: Mukesh Ambani
Architects: Perkins and Will
Space: 400,000 square feet
Size: Height-173 m (568 ft)
Completed: 2010
Attractions: Three helipads, 168-car garage, a ballroom, 50-seat Theater, terrace gardens, spa, a temple, gym
Antilia is one of the most expensive, luxurious and biggest house in the world in 2020. The interior designs are more beautiful than the exteriors. Antilia is a 27-storied, 570 feet-tall, and 400,000 square feet, and with amenities such as three helipads, a 168-car garage, a ballroom, 50-seat Theater, terrace gardens, spa, and a temple, the skyscraper-mansion is one of India's largest and most elaborated private homes. It owns by the businessman, engineer, the chairman, managing director Mukesh Ambani. It is located on Altamount Road, Cumballa hall in Mumbai. The name of the building is actually a mythical island named Antillia.
03. The One Hyde Park ($1.25 Billion)
The One Hyde Park is one of the biggest houses in the world in 2020 including luxury accommodation and super duper technology. It is environment friendly with large spaces. The building are earthquake resistance and highly expensive house in the world.
Value: $1.25 Billion USD
Location: London, United Kingdom
Owner: Project Grande (Guernsey) Limited
Architects: Richard Rogers, Graham Stirk
Space: 385,000 square feet floor area
Size: Total 14 Floor, 8,500 square feet with 5 bedrooms, 6 full and 2 half bathrooms per floor.
Attractions: Private Spa, 21m ozone swimming pool, Saunas and steam rooms, Two private studios, Squash court with digital scoring, State of the art gym, Spa, Wine storage
London must be blessed for having the largest expensive green place which is The One Hyde Park. No bluff, but this house has a separate fan base and pride among the people around London and outside as well. It is said that the beauty of the One Hyde Park is immensely shown at night. And about the security system of the house, it is updated with CHt features. This assures a high security system with total precautions.
Besides, this complex is quite fulfill with the touch of contemporary and ancient arts, designed and landscape which are the approached by the biggest architects. With smart construction solutions by CHt and 24 hours service facilities by 60 staff members has made the house worth billions of dollars.
04. Villa Leopolda ($750 Million)
Value: $750 million USD
Location: Léopold II, Villefranche-sur-Mer, France
Owner: Lily Safra
Architects: Ogden Codman Jr.
Space: 29000 square feet
Size: 18 acres (400m2)
Completed: 1902
Attractions: Historical attractions, tourist attraction, Antic attractions
Villa Leopolda is one of the biggest houses in the world with antic interior design. It is situated in Cote D'Azure, France. The price of the property is $750 Million. This 50-acre estate includes a commercial sized green house, a swimming pool and pool house, and outdoor kitchen, helipad and a guest house larger than the mansions of most millionaires. The house was famously used as a set in the 1955 Hitchcock classic To Cathch a Thief. The owner of the beautiful property is Lily Safra who is a Brazilian philanthropist and widow of Lebanese banker William Safra. Her husband died when another one of the couple's homes burned down, apparently due to arson.
05. The Tour Odéon ($335 Million)
Value: $335 Million USD
Location: La Rousse/Saint Roman, Monaco, France
Owner: SCI Odeon, subsidiary of Groupe Marzocco
Architects: Alexandre Giraldi, Designer: Alberto Pinto Agency
Space: 35,673 square feet
Size: 49 Floor, Height 558 ft
Attractions: Wellness center including spa, 259 residences, a fitness center and a swimming pool, , Restaurant and offices, , 10 subterranean levels with 543 parking spaces, including 62 for-sale private luxury residences (including 2 Sky Duplex apartments of 1,200 m² each and 1 Sky Penthouse of 3,500 m² over 5 floors), 157 lower floor apartments, entered via a separate entrance, are for social housing.
This captivating expensive house is the next level of beauty and luxury. You will never understand the definition of real beauty until you visit the Tour Odeon. The residence is taking the lives of the residents in a new level of the era providing the highest standard lifestyle with a homely environment.
With the shiny water of Mediterranean the Tour Odeon seems like a heaven floating on that water. The house has shown its dedication by providing glass walls from floor to ceiling. Also the luxurious bedrooms give an essence of calmness and it evokes a notion of high satisfaction. One must agree that the way Alberto Pinto had designed the interior of the house is timeless and precious.
06. The 8th Wonder of the World ($250 Million)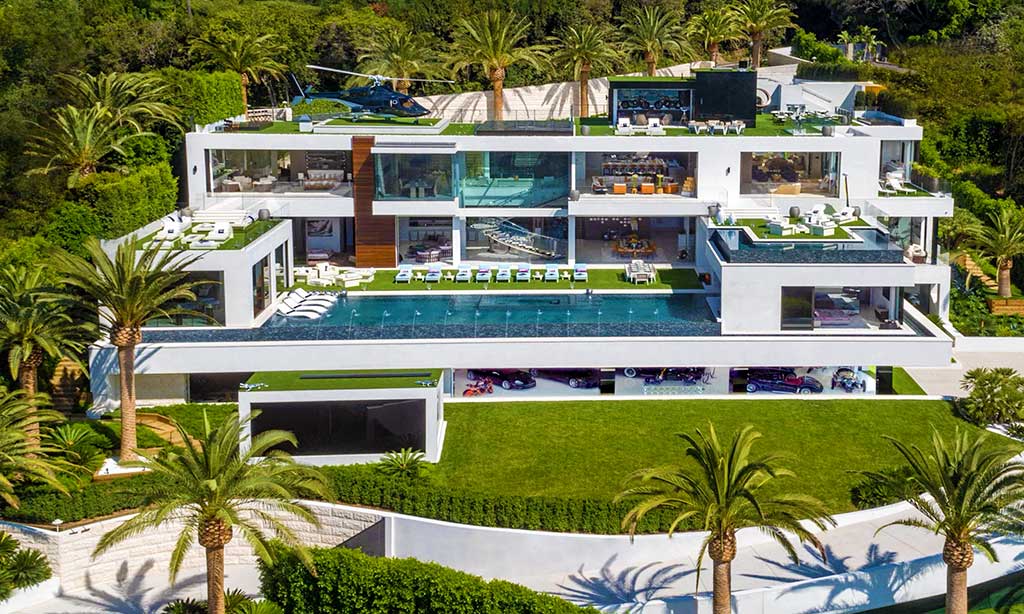 Value: $250 Million USD
Location: United States
Owner: Bruce Makowsky
Architects: Jørn Utzon
Space: 38,000 square feet
Attractions: 12 bedroom suites, 21 bathrooms, three gourmet kitchens, 85-foot infinity swimming pool, Spa, five bars, 40-seat movie theater.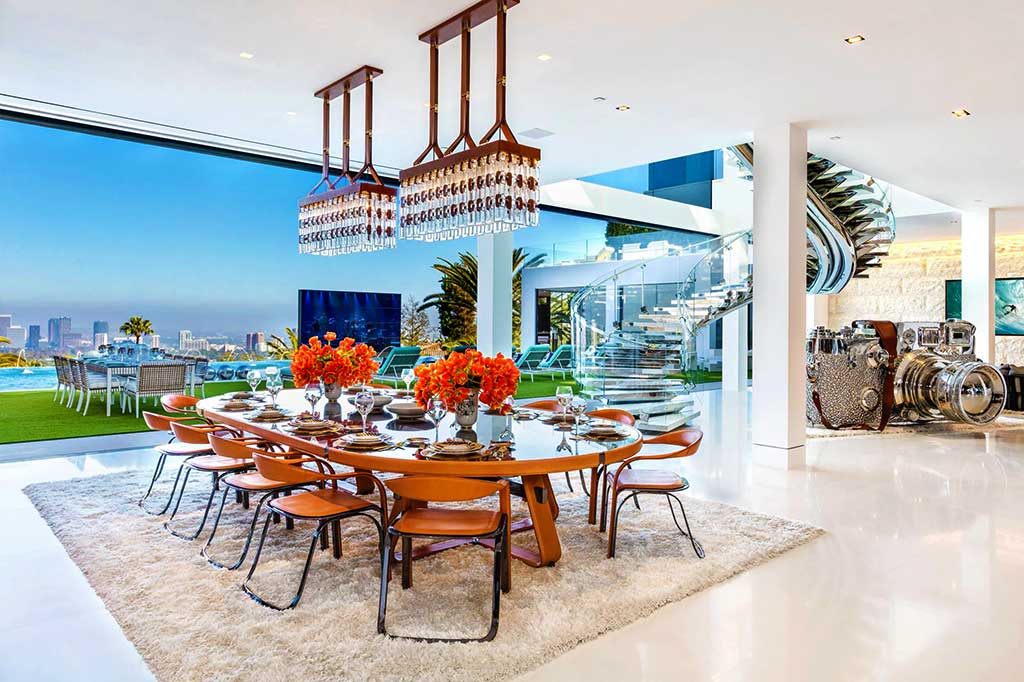 Well, you heard it right. The 8th wonder of the world house is a masterpiece of its own. With a view of snow covered mountains angling around from 270 degree, this house spreads a sensation of heaven in every bit. Visit the place once and you'll never lose the proper adjectives for the house. Bedrooms, gourmet kitchens, movie theaters, exotic spa, rare expensive cars, huge swimming pools are the main attractions of the house.
Besides, the amenities of the house are mesmerizing as well. From the best masseuse to the best food chef, you'll never run out of the facilities unless you don't have the house. Also, the design of the house from top to bottom was based on incredible wonder to impress people in a wide range.
07. Four Fair Field Pond ($249 Million)
Value: $249 million USD
Location: Sagaponack, NY 11962, USA
Owner: Ira Rennert
Architects: Chicago-based architects Perkins and Will
Space: 64,000 sq ft
Size: 63 acres
Completed: 2003
Attractions: 91ft long dining room, a bowling alley, basketball court, 29 bedrooms, 39 bathrooms, two tennis courts
This beautiful house is situated in Sagaponack, New York. The present value of the property is $248.5 Million. This has 29-bedrooms sits on 63 acres and has its own power plant. This huge property comes with 39 bathrooms, a basketball court, bowling alley, tennis courts, squash courts, three swimming pools and a 91 foot long dining room. The Owner of the house is Ira Rennert who is the owner of Renco Group, a holding company with investments in auto manufacturing and smelting. He also has holdings in metals and mining.
08. 18-19 Kensington Palace Gardens ($222 Million)
Value: $222 million USD
Location: Kensington, London W8 4QQ, UK
Owner: Taj Mittal, Lakshmi Mittal
Architects: Sir Charles Barry, Grissel & Peto
Space: 55,000 Square feet
Size: Pair of large houses (18 and 19 Kensington Palace Gardens)
Completed: 1846
Attractions: Antic Interior design,12 bedrooms, Turkish baths, indoor pool, the parking for 20 cars
Kensington Palace is another property on Billionaires Row, 18-19 sits alongside the home of Prince William and Kate Middleton. This particular residence has 12 bedrooms, Turkish baths, indoor pool, the parking for 20 cars. The owner of this palace is Lakshmi Mittal. The head of Arcelor Mittal, the world's largest steel manufacturer and according to forbes, one of the 100 richest in India.
09. Villa Les Cedres ($221 Million)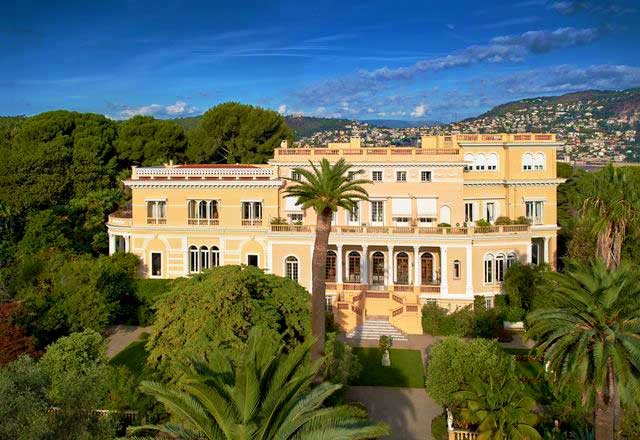 Value: $221 Million USD
Location: French Riviera, France
Owner: Campari Group
Space: 18,000 square feet, 35 acres
Attractions: swimming pool, ballroom, and stables for 30 horses, 10 luxury bedrooms, concierge, and Olympic-sized pool.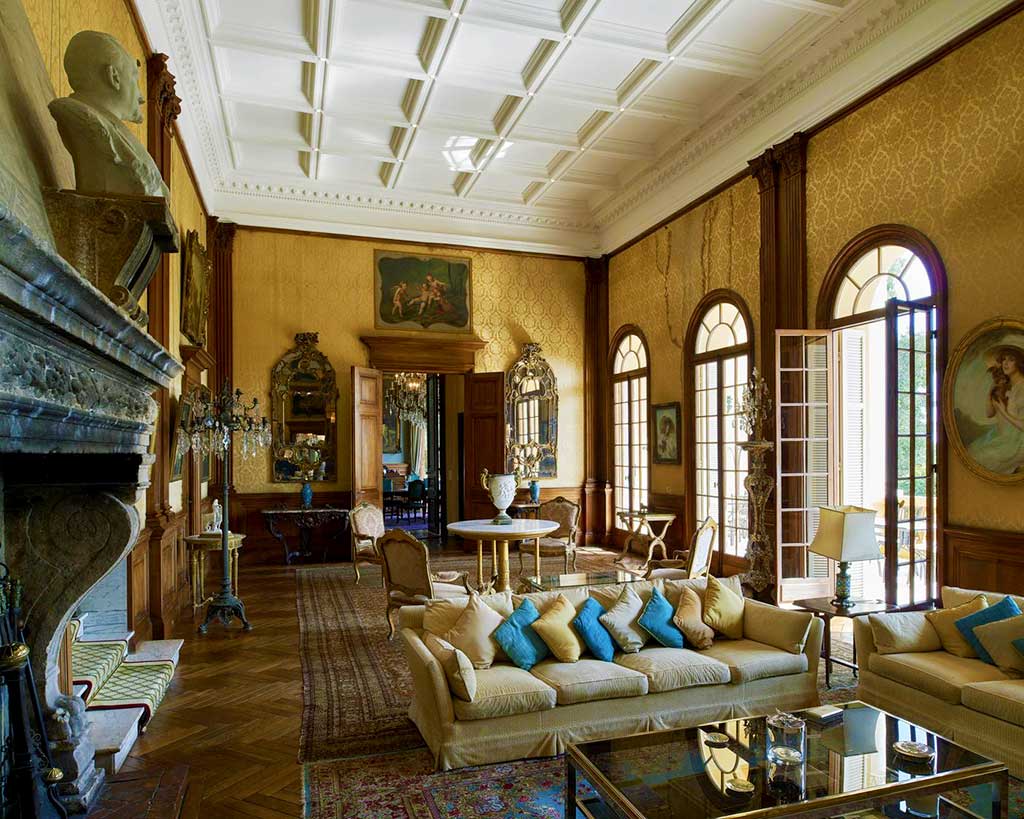 The expensive mega mansion explodes an immense beauty by surrounding itself with stunning sea beach scenarios. Among the several rooms of recreation and privacy and kitchen, the house has owned a huge library as well. The library is primal at botanical sectors for having a great collection of books on nature and flora. The house is exceptional for having blessed with the ocean views from inside.
However, the house gives a sense of pure art and an introduction of rising civilization by the pictures and designs of the furniture and exclusive collection of carpets.  Although the house has gained name because of its location, the house never fails anyone to drop their jaws with amazement.
10. Ellison Estate ($200 Million)
Value: $200 million USD
Location: Woodside, California, USA
Owner: Larry Ellison (Oracle founder)
Architects: William Wurster
Space: 8,000-square-foot main house
Size: 23 acre (with 10 buildings)
Completed: 2004
Attractions: a man-man lake, koi pond, tea house, the bath house, etc
Ellison Estate is situated in Woodside, California. The current value of the house is near $200 Million. This basically less a house than a compound, this 23-acre property is home to 10 buildings, a man-man lake, koi pond, tea house and the bath house. The owner of the house is Larry Ellison who is the co founder of Oracle and the third-richest man in the world in 2013, according to Forbes.
11. Chartwell Estate ($195 Million)
Chartwell Estate Exterior
Value: $245 Million USD
Location: CA, United States
Architects: Sumner Spaulding
Space: 25,000 square feet
Attractions: 75-foot swimming pool, Spa, and a secret underground tunnel, 5 bedroom guest house,