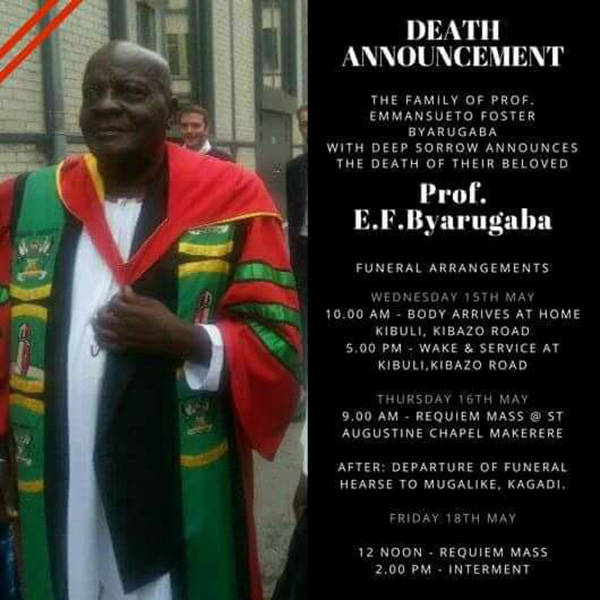 Prof Foster Byarugaba who for more than two decades taught political science at Makerere University is dead.
The immediate cause of his death is still unknown but he had been down with illness for sometime.
Byarugaba taught political science alongside academics like the late Prof Akiiki Mujaju, Prof Mahmood Mamdani and Prof Ali Mazrui. At the time of his death he had retreated into private consultancy.
At a time when many political scientists at Makerere were critical of the ruling NRM, Byarugaba never hid his love for the yellow party and was a regular fixture during the party retreats and conventions.
Former students eulogised Byarugaba as a witty and humorous fellow.
Julius Mucunguzi, a communications consultant with the Office of the Prime Minister wrote on his Facebook page that Byarugaba was one of the most intelligent lecturers he had interacted with.
Mucunguzi relieved some of the jokes of the old professor.
"Imagine you are in a house alone or in your case, you are in a room in the Hall of Residence like Mitchell Hall alone. You have no roommate. You can choose to walk around naked –completely naked–pacing from one end of the room to another with everything swinging,"  Mucunguzi recalled one of the jokes that usually sent the students into rib cracking laughter.

According to the burial arrangements, Byarugaba will be buried at Mugalike, Kagadi on Friday May 18.
Post Views: 14
Comments
comments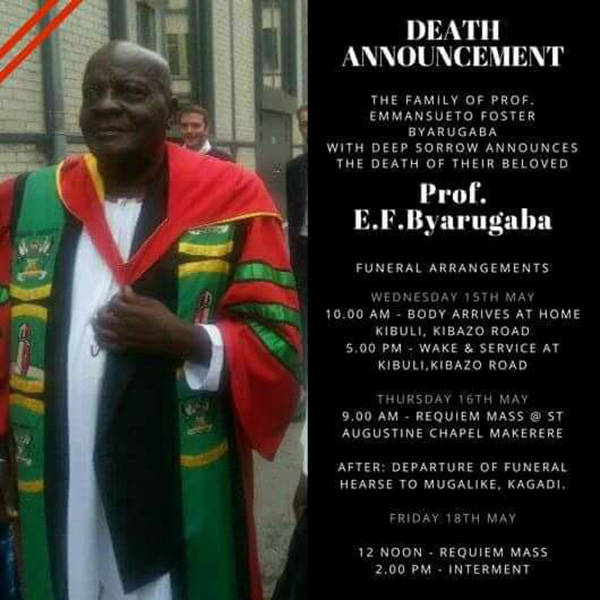 http://nilepost.co.ug/2018/05/15/political-scientist-prof-foster-byarugaba-is-dead/