King Mumbere has applied for bail before Jinja High Court pending his trials, saying he is of advanced age & gravely ill.
This developments come just after his acting premier of Obusinga Bwa Rwenzururu Johnson Thembo Kitsumbire was early this afternoon  arrested by Flying Squad officials.
Mr Kitsumbire was picked by a white mini bus van UAK 164R around 11. 45am from the office of the District Internal Security Officer (DISO) on Square One street, Kasese Municipality. when asked, Mr Kitsumbire declined from making any comment on the arrest.
More than 150 suspects including Rwenzururu king Charles Wesley Mumbere were yestarday charged with treason over the recent Kasese clashes that left more than 100 people dead and scores injured and remanded to Luzira prisons until 28th December 2016.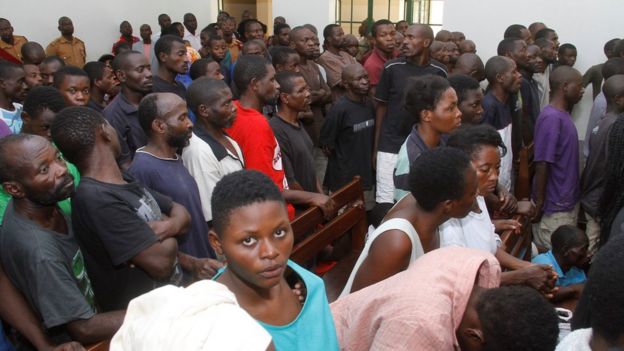 As the king was being charged afresh, His lawyer, Caleb Alaka, said they would apply for bail.
His lawyers also asked court to allow the king have his personal cook and fridge while in prisons
"Charles Mumbere is entitled to these privileges because he suffers from hypertension and diabetes", his lawyers added.
However, prison authorities say an outsider will not be allowed into the prison to prepare his meals.