The Uganda peoples Defence Forces has confirmed that President Yoweri Museveni has reshuffled the top army leadership replacing both the Chief of Defence Forces CDF General Katumba Wamala and his deputy, Lieutenant-General Charles Angina. The new CDF is General David Muhoozi, his deputy is Lieutenant-General Wilson Mbadi.
In a tweet this morning, the UPDF Spokesperson Lt Col Paddy Ankunda announced that these Changes are normal and good for institutional growth.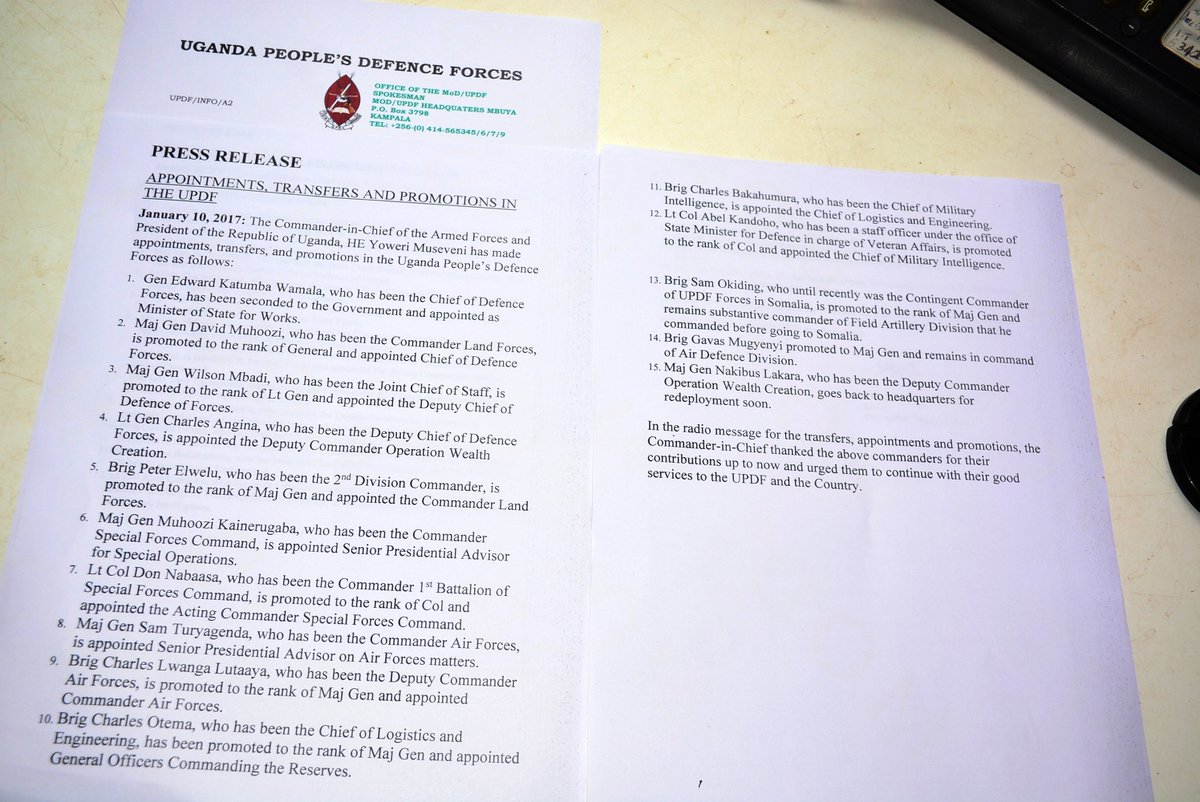 In the new reshuffle, which was announced late on Monday night and confirmed in a UPDF release on Tuesday morning, the president made a series of high level changes in the army leadership of which dropping Gen. Katumba Wamala's was the biggest but not the only noteworthy one.
The President's son Maj. Gen. Muhoozi Kainerugaba has been dropped as commamder of the Special Forces Command and appointes as a special advisor in charge of operations. Lt Col Don Nabaasa, who has been the Commander of 1st Battalion of Special Forces Command, has been promoted to the rank of Colonel and appointed to acting SFC commander. SFC is in charge of the president's security and other sensitive installations in the country.
Maj Gen Wilson Mbadi, who has been the Joint Chief of Staff, has been promoted to the rank of Lt Gen and appointed the Deputy Chief of Defence of Forces.
Lt Gen Charles Angina who was deputising Gen Katumba, has also been moved and named Deputy Commander of Operation Wealth Creation.
Brigadier Peter Elwelu who was commanding the Mbarara-based 2nd Division Brigade has been promoted to the rank of Major General and appointed commander Land Forces. Maj. Gen. Elewlu has been in the news recently due to his role in the November 27th 2016 raid on the palace of the Rwenzururu kingdom.  Over 100 people died in that raid and he ensuing firefight.