Dr Nyanzi, a research fellow Dr Stella Nyanzi at Makerere University  has today been arraigned in court today and charged with two accounts of cyber harassment and offensive communication and remanded to Luzira until April 25th.
The charges include cyber harassment contrary to section 24 (1)(2)(a) of the Computer misuse Act 2011 and offensive communication contrary to section 25 of the Computer Misuse Act 2011.
Stella Nyanzi, denied the charges and said President Yoweri Museveni is a "dishonorable" man who had "offended the people of Uganda."
During the prosecution, State attorney Jonathan Muwaganya  sought for mental examination of Nyanzi based on an affidavit made by one of the investigations officers.
Muwaganya asserts that Nyanzi was at one time a patient at Butabika hospital. "Information can be revealed through an order from court"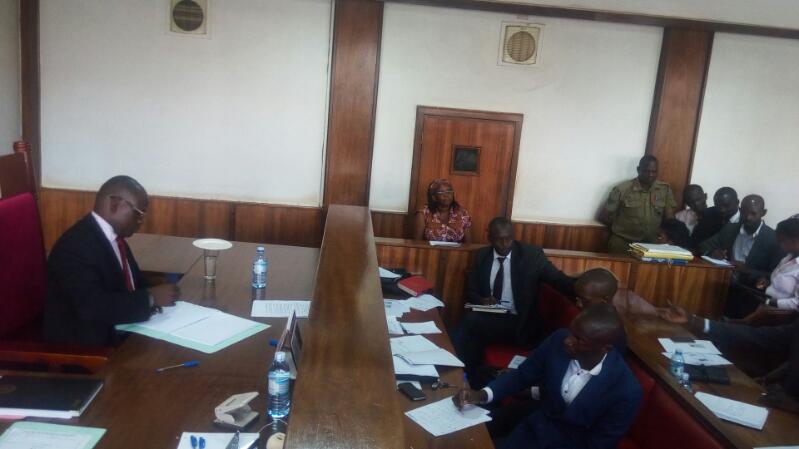 The charge sheet said Nyanzi had referred to Museveni as "a pair of buttocks" in one of her Facebook posts.
In the first count, prosecution alleges that "Dr Nyanzi on January 28, 2017 at Kampala District or thereabout used a computer to post on her Facbook page "Stella Nyanzi" wherein she made a suggestion or proposal referring to His Excellence Yoweri Kaguta Museveni as among others "a pair of buttocks" which suggestion/ proposal is obscene or indecent."

In the second count, prosecution states that Dr Nyanzi "between January 2017 and march 2017 in Kampala district wilfully and repeatedly used electronic communication to post messages offensive in nature via Facebook, transmitted over the internet to disturb or attempted to disturb the peace, quiet or right of privacy of his excellency the president of Uganda, Yoweri Kaguta Museveni with no purpose of legitimate communication.
In her defense, Nyanzi said "I have called the H.E an impotent man, a lot of metaphors. I am a writer whose writing is metaphoric, hence I plead not guilty"
On the 2nd count, Nyanzi said: "What is offence your honour? Ugandans have been offended so many times. Who is offended in this country?."Museveni is offending Ugandans. I am happy to take on the mantle of insanity. I am happy to take on the mantle of a truth teller", she said.
Nyanzi, a research fellow at Uganda's Makerere University, was detained at a hotel in the capital on Friday shortly after hosting a fundraising drive to raise money for sanitary pads for schoolgirls.
Police spokesman Asan Kasingye said on Sunday that Nyanzi was arrested for violating a law against misusing computers and that she would be charged with the offences of cyber harassment and offensive communication.
Nyanzi is popular on Facebook for her relentless criticisms of Ugandan President Yoweri Museveni, who has ruled since 1986. Museveni's critics increasingly warn that he plans to rule for life.
Some Ugandan politician have been recently saying they would back a proposal to remove the age limit from the country's constitution, the last obstacle to a possible life presidency for Museveni.
Campaign promises
On Facebook recently, Nyanzi rebuked First Lady Janet Museveni, who also serves as education minister, for saying the government had no money to buy sanitary towels (napkins) for poor schoolgirls, although the president had promised to budget for them when he was campaigning for re-election last year.
Many Ugandan girls are reported to drop out of school because of the shame they feel for lacking sanitary pads.
"I totally reject the idea that one cannot … and should not criticise the people responsible for abusing the rights of Ugandans and resources of Uganda through thirty-one years of increasing despotic family rule," Nyanzi said in one of her Facebook posts.
"As a thinker, scholar, poetess, lyricist, writer, Facebooker and creative producer, it is my responsibility to boldly critique the corrupt tyrants of the day."
Nyanzi has described the first lady as "foolish" and out of touch with the problems of ordinary Ugandans.
The academic, who trained as medical anthropologist, often uses sexual imagery to underscore her points on Facebook, leading many to accuse her of obscenity in this conservative country.
But her fans say she is an honest activist who is using her literary skills to fight for the poor.
In an interview with a local TV station, the first lady said she had chosen to "forgive" Nyanzi's criticisms, which she described as hurtful.
"I still don't know what kind of wrong I committed to deserve that kind of language and the names she chose to call me, and all that. I just wanted to tell people that I honestly forgave that lady," the first lady said.
"Because I don't understand how an educationist can use that language to say anything about anybody."